VPN for Android Devices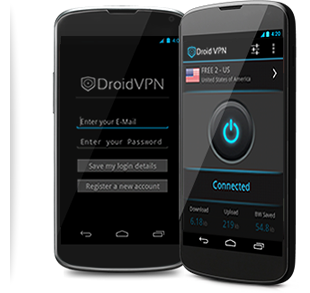 Most of us use our Android™ phone or tablet to check our facebook account, send emails and even manage our bank accounts while we are not home through public Wi-Fi hotspots. But did you know that all emails, instant messages or just any other data that is sent via your wifi is also sent in plain text which can be easily sniffed by anyone using some tools which is available freely in the internet? If you care about your online privacy and freedom, DroidVPN is an excellent solution for your Android™ phone or tablet.
So why use a VPN?
There are many reasons why you would like to use a VPN. Some countries are notorious for controlling the content on what users can view or monitoring their online activities. DroidVPN allows you to unblock and access any site you want. It provides a protective shield to your android phone or tablet by encrypting all the data you transmit over the Internet which makes all your internet traffic anonymous making it impossible for your ISP or government to know what websites you are visiting.

Every time you visit a new website, you are exposing yourself, leaving a digital fingerprint in the form of an IP address. A hacker may use this information to try to access your sensitive information or steal your passwords. By replacing your IP address with ours, DroidVPN protects your identity and allows you to become anonymous. Signup now for free!


---
Features of DroidVPN
Anonymity
Anonymous surfing by hiding your real IP address. Conduct your online activities anonymously.
Security
Your data, including passwords, financial transactions and instant messages, is secured and encrypted.
WiFi security
Secures your web browsing session when connected through Wi-Fi.
Affordable and cost saving
Monthly subscription is affordable. You can also save on bandwidth by our VPN data compression.
Ease of use
With 1 tap connect even your mother can connect to our VPN servers
Unblock web sites
Youtube or Facebook? It's up to you to decide what websites you want to visit.
But Wait, There's More!
Blocks ads for faster internet browsing
1 tap connect to our vpn server.
Gives you unrestricted Speed.
Encrypts your internet traffic.
Unblocks web sites.
Unlimited/Instant server switch.
Can tunnel through ICMP.
Works with GPRS and WIFI.
Free 100MB everyday for free users
---
Latest Updates
5 Day Premium Account Extension - Once again the authentication servers crashed but this this time it was my fa [Read more...]
Server Downtime 6/23/2016 - The authentication servers crashed yesterday and this prevented everyone from [Read more...]
Battery Saving Mode in Android will Affect VPN - Battery saver mode was introduced on Android 5.0 Lollipop. When you enable th [Read more...]
More server capacity and updates - Maintenance (May 29-31 2016) If youve been using DroidVPN yesterday [Read more...]